White Bomberman
Comments

21
1,294pages on
this wiki
White Bomberman, better known as simply Bomberman, is the main protagonist of the Bomberman series. He is the primary representative of the Bomberman people, who became the usual inhabitants of Planet Bomber. Like all Bombermen, he has the ability to generate bombs in his hands. There are many incarnations of him represented in the different games of the series, which usually don't keep a constant description of the character. He is often saving his home planet from disaster.
He is sometimes referred to as "White Bomber", "Cheerful White", and (in Japan) "Shirobon" (しろボン), sometimes shortened to "Shiro".
Biography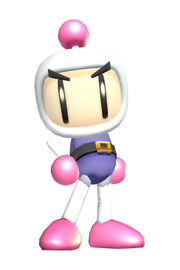 The games are set on Planet Bomber, located in a galaxy known as Bomber Nebula.
In the home computer games Bomberman and 3-D Bomberman, Bomberman had a green shirt depicted with reddish overalls, hair, a visible mouth, hair, and a white hat (with a red feather in some versions). In Bomberman (NES), the hat was swapped with a helmet and antenna, and he was given a blue suit with white and pink limbs. He also had a white horizontal stripe on his back, which was replaced with a black belt in subsequent appearances. This is actually based on the enemies seen in Hudson's NES version of Lode Runner, but this appearance has more or less remained constant in the series.
The character's origins are rarely touched upon, but it is generally agreed that Bomberman was the first robot of his kind. The NES game begins with the eponymous character growing tired of making bombs in an underground factory, and after hearing a rumor that a robot can become human by reaching the surface, he decides to escape to (figuratively or literally) gain his humanity. The ending with Bomberman running to the right and his organic self emerging from the left was intended to signify his miraculous transformation into the human known as Runner, as the player sprite was reused from the NES Lode Runner. This suggests that the unnamed underground empire was the recurring Bungeling Empire from early Brøderbund games. This connection was largely absent since the series continued, but references remain in later Hudson games such as Battle Lode Runner, Cubic Lode Runner and Bomberman: Act Zero. In the TurboGrafx-16 game, Bomberman is revealed to have been used as the basis of subsequent lifelike Bomberman robots due to his demonstrated ability to think and reason like a human being. As he is more often identified as a Bomberman, he is still occasionally viewed as a robot.
Bomberman is eventually shown having joined an intergalactic police force stationed at Bomber Base to help protect the galaxy. This has been elaborated upon in later games, where a scientist named Dr. Ein directs Bomberman's objectives. Max, from the same police force, is often sent with White Bomber in his missions, and sometimes acts as a friendly rival. Since then, Bomberman decided to move from planet to planet to save them from disasters; this earned him the title of "The Legendary Hero" of Planet Bomber, with others appreciating his abilities.
Bomberman's archnemeses are Professor Bagura and the Hige-Hige Bandits. His original enemy was Black Bomberman, but when Black Bomberman reformed, the two became allies.
Personality
White Bomber is usually portrayed as the heroic, upbeat, yet cheerful and jolly type, but sometimes goofy, all too willing to make friends with people he had once considered enemies. His bright, kind spirit and courage are greatly appreciated by others. He never holds back while fighting and focuses a lot on training to be the strongest warrior ever.
Anime(s)
He has featured in three anime series, Bomberman B-Daman Bakugaiden, Bomberman B-Daman Bakugaiden Victory (based on the marble shooting game B-Daman) and Bomberman Jetters. Each of these introduced their own characters, and different takes on the series.
Bomberman B-Daman
Main article: White Bomber (B-Daman)
White Bomber is the main protagonist in the Bomberman B-Daman (series).
Bomberman Jetters
Main article: White Bomber (Anime)
In Bomberman Jetters, White Bomber (or Shirobon) is the ten-year old brother of the hero, Mighty. However, unlike what people thought from the brave, gentle Mighty, his brother was actually childish, immature, and inexperienced, with only a single Bomb Star. Through the course of the series, he begins to mature and becomes more experienced.
Comics
White Bomber appeared in several of the German Club Nintendo comics. They were published only in Germany, though fan translations have appeared since then. He has only appeared in three of them.
Sag niemals Holerö!
Freeze Frame
Trivia
He also made appearances in other games, such as DreamMix TV World Fighters, a fighting game with characters from Hudson Soft, Konami and Takara. He also makes a giant playable appearance in Star Parodier, a spoof of the Star Soldier series, which is also developed by Hudson Soft.
In most games, Bomberman starts each Battle Mode round in the upper left corner of the stage.
The number of bombs that Bomberman can deploy at one time and the range of the explosions can be increased through power-ups.
Bomberman almost always seems to have a high-pitched female voice, mainly in the American releases of the games from Bomberman 64 onward. With each successive game, he has a different voice actor, save for Bomberman Generation and Bomberman Jetters, in which in both he is voiced by Sheryl Stanley. This is due to his physically young age.
He was first voiced by Kazuko Sugiyama in Panic Bomber (Neo Geo).
Bomberman usually loses one life if he is touched by an enemy, or if he is caught in a bomb explosion.
In Bomberman 64: The Second Attack, Bomberman apparently used the Fire Stone's power as a source of his standard explosives. This is not shown in other games, so this may be because he was weakened and needed it to augment his abilities.
He was 10 in Bomberman Jetters.
Gallery