White Bomber (Jetters)
Comments

2
1,256pages on
this wiki
White Bomber

White Bomber as he appears in the anime.
General information
Japanese name:
Shirobon
Physical description
Gender:
Male
Race:
Bombermen
Personal information
Occupation:
The Jetters' Bomberman
Affiliation:
Jetters
Alignment:
Good
Allies:
The Jetters, Mighty Bomber, Zero, Rui, Bomber Defense Team, Momo, Misty, Mujoe

*

, Hige-Hige Bandits

*

Enemies:
Mujoe

*

, Hige-Hige Bandits

*

, Bagura

*

MechaDoc, Max, Bomber Shitennou, Proto-Max Units
Media appearances
First appearance:
Episode 1: The Idol Bomberman
Anime:
Bomberman Jetters
Sprites
v • e • d
This article is about White Bomber from the anime, Bomberman Jetters. If you are looking for an article with the same name or nearly identical name, see White Bomberman.
White Bomber (known as Shirobon in Japan) is the main protagonist of the Bomberman Jetters anime. Younger brother of Mighty Bomber, White Bomber is assigned in the Jetters by Dr. Ein when Mighty was reported missing. Unlike Mighty, White Bomber is arrogant, childish, and inexperienced.
Background
Edit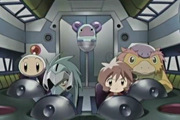 White Bomber is arrogant, childish, and inexperienced, being pushed into doing something he can't do by his older brother Mighty. After Mighty was reportedly thought to be missing, White Bomber departs his home planet, Planet Bomber, to Planet Jetters to join the Jetters in a fight against the notorious Hige-Hige Bandits and to search for his missing brother. Throughout his adventures, White Bomber steadily learns of Mighty's disappearance, encountering foes and allies, and obtaining the powers of the bomb stars.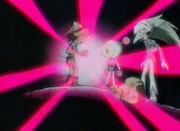 After obtaining his second bomb star in "Bomb Star of the Sunset," White Bomber has been a little bit too confident, ignoring training and the ramen shop. At the same time within "White Bomber's Defeat," Mujoe, after being fired from the Hige-Hige Bandits and was left stranded on Planet Charabom, uses the "Combined Bomberman Making Machine" on the charabom police force and transforms them into the Bomber Shitennou. Mujoe wanted to gain Bagura's trust again by requesting a challenge against White Bomber using the newly combined Bombermen force. White Bomber confidently accepts the challenge but harshly loses the fight against Flame Bomber.
Since the loss, White Bomber loses his pride and confidence; therefore, he also left the Jetters and decides to return to Planet Bomber to stay with his grandmother Momo in "Goodbye, Jetters!" In "White Bomber Returns," Momo wisely tells White Bomber to visit the training tower for Bombermen to train but to also allow him to learn the true meaning of being a Bomberman. Overcoming the challenges within the tower, White Bomber faces his final challenge against his own grandmother. However, White Bomber badly loses against her. Momo reveals to White Bomber about the meaning of being a Bomberman, and White Bomber takes the lesson and regains his confidence. Coincidentally, he also gains the power of the bomb star he received. At that point, White Bomber appears in front of the Jetters, Mujoe, and Flame Bomber and requests a rematch against Flame Bomber. Using the new power he gained, White Bomber develops a new type of bomb called the Burning Fire Bomb. With this, Flame Bomber was easily defeated.
In "The Glamorous Mermaid Bomber," White Bomber faces against the water-based enemy, Mermaid Bomber, but once again loses. However, unlike the battle with Flame Bomber, White Bomber learns to accept the loss and trains to create a bomb capable of defeating Mermaid Bomber. In "The Sunrise Bomb of Friendship," Gangu and Bongo assist White Bomber into creating a thunder bomb. After several attempts, White Bomber successfully creates the Sunrise Thunder Bomb. With the bomb, White Bomber was able to defeat Mermaid Bomber.
After learning of his brother's death during a mission to destroy the Hige-Hige base of operation, White Bomber sought to destroy the man responsible for his death, Max. Successful at destroying Max with the help of the Jetters, White Bomber and the Jetters thought Max was done for good, until encountering a robot who resembles Max in every way. However, White Bomber learns that he is in fact the prototype of Max, MA-0 (later named Zero by Misty) who surprisingly has the memories of Mighty all together, even acting just like him. White Bomber, shattered into pieces from learning the truth, blames Zero, or truly to Mighty, for breaking the promise he made that one day Mighty will permanently quit the Jetters and return to Planet Bomber. However, while attempting to deactivate the small warp device, White Bomber learns to respect Zero and both work together to stop MechaDoc's evil plan to obtain the bomb crystal.
At the edge of Planet Bomber's and Jetters' destruction, Zero tells White Bomber that he will give his seventh bomb star and showcases a recording of Mighty's final moments before dying. White Bomber watches Mighty's actions before shooting Mighty's Jetters badge into the sky. The action responses to the bomb crystal, which restores Planet Jetters' original location and saving the two planets from colliding. The Jetters and the Hige-Hige celebrate together; the series ends with Hige-Hige stealing the golden sake cup, while White Bomber puts a stop to it.
Abilities
Edit
Fire Bomb
Edit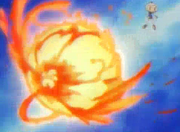 At some point, White Bomber learned how to create a Fire Bomb, although creating one took quite a while. The first time he was shown using the Fire Bomb was in "The Five Jetters," however, the bomb needed to charge before he can use it. Surprisingly, the bomb packed a devastating power that even had the power to create a crater in a mountain. Throughout his experience, White Bomber steadily gains the ability to create a charged Fire Bomb at the moment of summoning one.
Burning Fire Bomb
Edit
This section is a stub. You can help by expanding it.
Sunrise Thunder Bomb
Edit
The Sunrise Thunder Bomb is White Bomber's version of the Thunder Bomb. It makes its first appearance in "The Sunrise Bomb of Friendship." Unsuccessful in using the Thunder Bomb, White Bomber learned how to use a different type of the bomb, with the help of Bongo and Gangu. The Sunrise Thunder Bomb was proven quite useful to defeat water-based opponents, such as Mermaid Bomber, due to their electrical weakness.
It was used again in "Planet Jetters' Last Day!" to stop Dark Force Bomber from getting to Shout. However, it just irritated Dark Force Bomber even more.

White Bomber's first attempt to create an Ice Bomb was in "The Melody of the Gigantic Planet." While searching for Shout, who was taken from a giant cat, White Bomber stumbled upon a lake. He created an Ice Bomb to freeze the lake, which was successful. However, the bomb was too weak to allow White Bomber to skate upon and shattered the frozen lake.
Water Bomb
Edit

White Bomber desperately trained to defeat Max by learning new types of bombs. After several attempts to create a Water Bomb, White Bomber shocked Bongo, Gangu and himself into creating a powerful Water Bomb that washed the group away. However, much to the celebration, Birdy informs that Max uses electric-based bombs, which dominates water-based bombs.
Shining Fire Bomb
Edit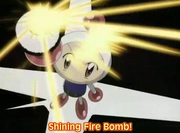 The Shining Fire Bomb is the final upgrade to the Fire Bomb White Bomber learns. It appears in "Planet Jetters' Last Day!" This bomb packs an immense power that was even capable of bypassing the power of Dark Force Bomber's bomb. At the process, Dark Force Bomber was also defeated after colliding with the bomb, reverting him back to MechaDoc. Interestingly, the Shining Fire Bomb uses a slightly different summoning and shooting process.
Relationships
Edit
White Bomber's relationships with other important figures.
Mighty Bomber
Edit
Mighty is White Bomber's older brother.
Gangu and Bongo
Edit
Minor characters
Edit
To view an image, click to enlarge.