Noronoro Byun (のろのろびゅーん) is the second stage in the Battle Game of Super Bomberman 4. In this stage, the flow of time periodically changes, altering both the players' movement speeds and the speed at which bombs detonate. This change is preceded by three warning sounds, though there is a chance that the speed may not change. The time flow may be slow, normal, or fast.
(Note: The number of Egg items within parentheses is an extra amount that may or may not appear at random in a match.)
Noronoro Byun 2-1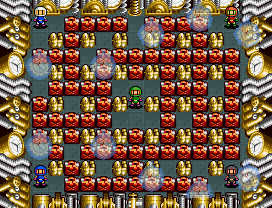 Noronoro Byun 2-2
Password: 4622


Players start next to each other in the middle of the stage.
Noronoro Byun 2-3
Password: 0520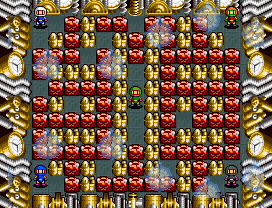 The many Hard Blocks result in short passages, and there is a long, narrow column down the middle of the map.
Noronoro Byun 2-4
Password: 0903


Movement is restricted on the four corners of the map. There are two Wall Pass items available here.
Trivia
"Noronoro" is a Japanese sound effect for something that moves slowly, while "byun" is a Japanese sound effect for something that moves quickly.
References
Super Bomberman 4 Hudson Official Guidebook, pg. 70, 84-85, 107
Ad blocker interference detected!
Wikia is a free-to-use site that makes money from advertising. We have a modified experience for viewers using ad blockers

Wikia is not accessible if you've made further modifications. Remove the custom ad blocker rule(s) and the page will load as expected.