"White Bomber, Launched Without Permission!" is the fourth episode, airing on October 23, 2002[1].
Synopsis
While helping train White Bomber at the Jetters Base, Bongo asks Gangu to pose as the enemy; tired of being pushed around, Gangu runs off, only to be thrown into a garbage truck. White Bomber and Bongo attempt to rescue Gangu, only to find that the Hige-Hige Bandits are there as well. Will White Bomber and Bongo be able to rescue Gangu, and what is the Hige-Hige after?
(I remember this episode!)
Plot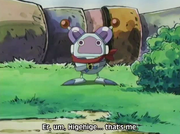 One day, White Bomber decides to do some training at the Jetters Base with Bongo and Gangu. On the morning of their training, Gangu is now an alarm clock and goes off, and Bongo smashes him to turn him off.
Later, Bongo and Gangu help White Bomber train. Gangu poses as the enemy and gets blown up and modified several times, which hurts his feelings. Gangu cries that he would rather be in the garbage, and of course, he ends up getting caught in a garbage truck. White Bomber wants to save Gangu, but Bongo said they should leave Gangu alone. White Bomber gets on the Cosmo Jetter, and Bongo reluctantly comes too. They launch the Cosmo Jetter and go after Gangu in Planet Totemoku.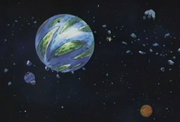 At the Shumulvault, MechaDoc scolds the Hige-Higes for throwing away the only perfume of its kind in the universe, so they go to get it back. On the garbage truck Gangu has one of his emotional moments and the perfume falls right next to him.
At the ramen shop, Shout is mad that White Bomber is not helping. She gets a call from Ein for a mission, but Ein also says the Cosmo Jetter is gone.
Shout calls White Bomber and busts him for taking the Cosmo Jetter. White Bomber said he left a note, but Ein blew his nose in it earlier. Gangu has another emotional moment and finds the perfume. The Hige-Hige Bandits find him and chase him for the perfume. White Bomber sees Gangu and tries to save him with a crane, but he threw Gangu at a building and Gangu is barely hanging on to a steel beam. The Hige-Hige Bandits find him, but Gangu and the Hige-Higes fall and Gangu drops the perfume into the sea. MechaDoc shows up and turns a dolphin into Dolphin Bomber. Dolphin Bomber retrieves the perfume.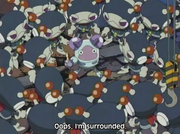 Meanwhile, Gangu is about to get crushed and scrapped, but Bongo comes and rescues him. They have their emotional reunion then.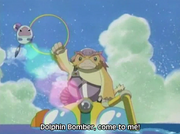 White Bomber confronts Dolphin Bomber and Dolphin Bomber throws a Sonic Bomb. An earsplitting noise emits from the blast and White Bomber retaliates with a Fire Bomb, but Dolphin Bomber deflects it with her nose and bounces it back to White Bomber. Gangu gets modified by Bongo into a dolphin ring to distract Dolphin Bomber. Dolphin Bomber being all dolphin like just has to jump through it. Gangu and Bongo just realize that they are going to get blown up too. White Bomber throws a bomb and blows everything up, and Dolphin Bomber returned to a normal dolphin. The mysterious man from the previous episode appears again and was watching the whole thing from a tower.
The Jetters get the perfume and return home. At the HQ, Shout is totally mad at White Bomber. Shout takes the perfume and since she is totally mad, dumps it all on White Bomber not knowing it is unique. She realizes that and totally screams "WHHAAAT!!!!"
Video
Goofs
After Gangu get sent to Garbage Truck and White Bomber shouts "Gangu", Bongo magically appears on White Bomber behind.
References
Episode list
1
The Idol Bomberman
2
The Five Jetters
3
Formidable Enemy! Combined Bombermen
4
White Bomber, Launched Without Permission
5
Underground, Go! Go! Go!
6
The Mysterious Man, Max!
7
Pursue the Hige-Hige Bandits!
8
The Blue Rose of Memories
9
Find Treasure Island!
10
Bomb Star of the Sunset
11
3,000 Light Years to Find Mother!
12
Protect Charabom
13
White Bomber's Defeat
14
The Glorious Hige-Hige Bandits!
15
Goodbye, Jetters!
16
White Bomber Returns
17
The Glamorous Mermaid Bomber
18
The Sunrise Bomb of Friendship
19
Max and White Bomber
20
Plow On, Grand Bomber!
21
The Duel at the Ancient Hot Springs Village!
22
The Longest Day of Mighty's Life
23
Shout's Tears
24
Electric Thunder Bomber!
25
The Revealed Truth
26
We, the Jetters!
27
Handy Gangu!
28
Talking with Rui!
29
The Melody of the Gigantic Planet
30
Curry and the Prince
31
Misty's Big Plan
32
The Idol, White Bomber
33
Ein Goes Boom!
34
A Fierce Battle! B-1 Grand Prix!!
35
A B-1 Match! Burn, White Bomber!
36
A Close Look at the Jetters
37
Max Comes Back to Life
38
Protect the Great Invention!
39
The Suspicious Health Checkup
40
A Coup d'Etat Erupts!
41
Rebirth of the Dark Hige-Hige Bandits
42
Manly Mujoe and Salt-Flavored Ramen
43
Storm the Shumulvault!
44
Find the Bomb Star!
45
Zero and White Bomber
46
The Bomb Crystal's Secret
47
Truly Terrible MechaDoc
48
Head-On Collision?! Planet Jetters!
49
Regaining the Shumulvault!
50
Combine! Dark Force Bomber!
51
Planet Jetters' Last Day!
52
Keep Going, Jetters!
Ad blocker interference detected!
Wikia is a free-to-use site that makes money from advertising. We have a modified experience for viewers using ad blockers

Wikia is not accessible if you've made further modifications. Remove the custom ad blocker rule(s) and the page will load as expected.