The Jetters are a group of different races created to protect the universe from the evil Hige-Hige Bandits. They make an appearance in Bomberman Jetters and its anime.
Members
Unknown
Previous Member
Jetters Base
See Jetters Base
The Jetters Base is the headquarters of the Jetters, found within Planet Jetters. Within the base houses the main method of transportation to traverse around the universe, the Cosmo Jetter, along with other small vehicles to help the Jetters during missions.
Jetters Badge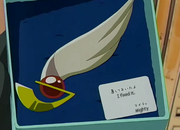 The Jetters badge is an item the Jetters use for identifying themselves, communication, and transportation to Jetters base when pointed at some type of electronic device scattered around in Planet Jetters.
Trivia
Ad blocker interference detected!
Wikia is a free-to-use site that makes money from advertising. We have a modified experience for viewers using ad blockers

Wikia is not accessible if you've made further modifications. Remove the custom ad blocker rule(s) and the page will load as expected.