Bomberman Quest
Below is a list of items and accessories of the items in Bomberman Quest.
Equippable Items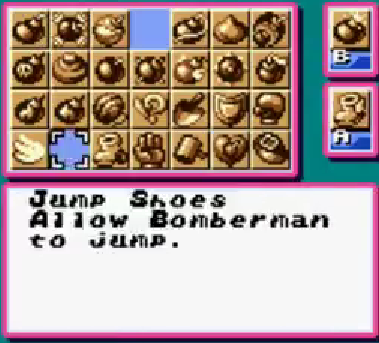 First Row 
Normal Bomb
Ice Bomb
Poison Bomb
Short-fused Bomb
Long-fused Bomb
Rubber Bomb
Wide-range Bomb

Second Row
Skull Bomb
Land Mine
Flak Bomb
Homing Bomb
Speed Bomb
Aqua Bomb
Robot Bomb

Third Row
Right Bomb
Left Bomb
Yo-yo
!?
Shovel
Shield
Gauntlets

Fourth Row
Wings
Jump Shoes
Dash Shoes
Power Glove
Hammer
Remote Control
Tackle Belt

Accessories
Accessories are passive equipable items for Bomberman.
First Row
Silver Armor
Gold Armor
Platinum Armor
Teleport Armor

Second Row
Steel Shoes
Sneakers
Rocket Shoes
Combat Boots

Third Row
Safety Shoes
Glasses
Power Bracelets
Scuba Gear

Fourth Row
Helmet
Lamp
Full Fire
Leather Armor

Bomb Component
Bomb Components are used to make bombs at the Bomb Workshop by combining the Bomb Component with an Explosive Core.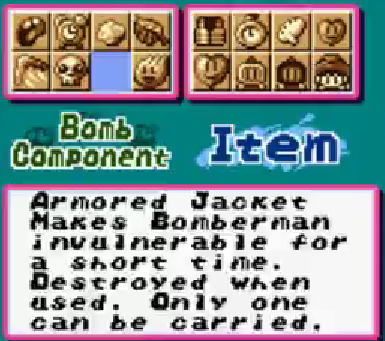 Rubber
Clock
Ice Shard
Poison Ivy
Boomerang
Skull
Explosive Core
Fire

Collectable Items
These are items bomberman can collect, most of them have an immediate, one time use effect. These also include the 3 trading cards needed to get the Robot Bomb.
Vest
Stopwatch
Flute
Heart
Full Heart
White Card
Black Card
Honey Card

Ad blocker interference detected!
Wikia is a free-to-use site that makes money from advertising. We have a modified experience for viewers using ad blockers

Wikia is not accessible if you've made further modifications. Remove the custom ad blocker rule(s) and the page will load as expected.