Hige-Hige Bandits
Comments

0
1,255pages on
this wiki
The Hige-Hige Bandits (or Higehige-dan) (Also sometimes known as the Meanie Gang) are the group of underlings that serve Mujoe and Bagura in the Bomberman series. They are most often seen in the Bomberman Jetters anime, as well as several Bomberman games.
Appearance
Edit
They wear black costumes and have two antennas on their head. They have large eyes and a large mouth, but they lack a visible nose. The only word they are ever heard speaking is "Hige" or some variation of it.
Personality
Edit
The word Hige means "humility" in Japan. The Bandits often run around cluelessly and make many careless mistakes because of their simple-minded nature. In many cases, they are the reason that Mujoe loses to the Jetters when they confront one another.
Chige-Chige Bandits
Edit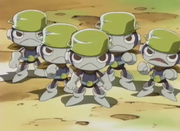 In Bomberman Jetters, there is a group of bandits that resemble and behave very similarly to the Higes. They are known as the Chige-Chige Bandits and are led by a man named Achoe, who resembles Mujoe. The Chiges have a reddish-brown costume and are always seen wearing pots over their heads.
Bomberman Fantasy Race
Edit
A Hige-Hige Bandit is playable in this game, and he goes by the name Mechbomber 015.
Notable Hige-Hige Bandits
Edit
Main article: No. 156
No. 156, despite looking identical to any other generic Hige-Hige, is the most notable Hige-Hige Bandit. His name debuts in episode 14, where the entire episode focuses on him and his daily life. He appears in other episodes however, and he seems to be very loyal to Mujoe.
Main article: No. 398
No. 398 is also one of the most notable Hige-Hige Bandits; His initial role was to go undercover and live out a normal life, getting a job and raising a family on Planet Jetters so he could spy on the Jetters HQ. Since he appears to have raised a family however, his undercover work may now be in question, which is acknowledged by other characters in the anime, including Mujoe. His job role is the "Department Chief Hige".