Happy Happy (

ガタガタブロック

, Clattering Box, in Japan) is the 12th Battle Game stage in Super Bomberman 3. It is one of two "special stages" that are unlocked by pressing the X button repeatedly for 6 seconds on the title screen. Because the use of passwords will negate the unlocking of this stage, there is only one variation.
The featured trap here is the
Clattering Box
. Due to the complex map reconfigurations resulting from this feature, Happy Happy is labeled as a "puzzle" stage.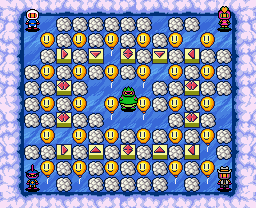 Trivia
Each time a player is eliminated, the balloon-shaped Hard Blocks smile and laugh.
References
Super Bomberman 3 Hudson Soft Guidebook, pg. 104-105
Ad blocker interference detected!
Wikia is a free-to-use site that makes money from advertising. We have a modified experience for viewers using ad blockers

Wikia is not accessible if you've made further modifications. Remove the custom ad blocker rule(s) and the page will load as expected.