Dastardly Bombers
Comments

8
1,293pages on
this wiki
The
Five Dastardly Bombers
are a recurring group of boss Bombermen. In early English translations, they were also called
The Five Bad Bombers
.
Story
Spoiler warning: Plot and/or ending details follow.
In Super Bomberman 2, the Dastardly Bombers appear for the first time to antagonize White Bomberman. They claimed that they were sent by aliens who wanted to take over the universe, and came to Shiro's planet so they could "capture the original Bomberman."[1] They were strong enough to defeat Bomberman and put him a prison cell in Magnet Bomber's base, but were defeated one-by-one when he broke loose on their ship. In their defeat, they fell to Earth alongside the wreckage of their ship.
They returned in Super Bomberman 3, revived by Professor Bagura, their master. Each Dastardly Bomber took control of a planet, stealing and scattering the shards of the Mother Computer Chips. Again they were bested, this time by the combined efforts of White Bomberman and Black Bomberman. Aboard Bagura's Battleship, they combined into the fighting mecha Gattaida, but were ultimately defeated and left inside the exploding saucer.
In the spin-off Super Famicom game Bomberman B-Daman, the four male characters appear as living targets on some of the game boards, while Pretty Bomber appears on the edge of the screen in the background of one of the worlds.
At some point in the past, they were involved in a plot on
Phantarion
, led by Brain Bomber, in which they fought against the world's army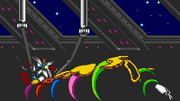 and severely wounded Max.
[2]
[3]
They returned many years later in
Bomberman Tournament
to follow through with the same old plot, but with revised plans based on their previous mistakes - they stole the four medals of
Fantasy
and sealed the Phantarion army inside
Fairy Palace
. The plan worked, and they ruled over the planet for about one year until Bomberman came to stop them.
[4]
They were seen escaping and have not returned since.
Spoiler warning: Spoilers end here.
Traits
The Dastardly Bombers appear to be human cyborgs, given the ability to plant bombs like Bomberman. They have several similar characteristics:
Each Dastardly Bomber has his or her own unique bomb.
They all wear rounded helmets with chins and golden emblems on their foreheads.
Starting in Super Bomberman 3, they all have the ability to become light comets in order to escape defeat.
Starting in Bomberman Tournament, they all have the ability to "fuse" with Karabons to become large boss monsters.
Members
Trivia
The Five Dastardly Bombers were the first group of unique Bomberman enemies.
The "light comet" technique was first used by them. It was later used by the Four Bomber Kings and the Dark Force Bombers, notably, though not for the same purpose.
Altair's ship in Bomberman 64 bears a striking resemblance to the ship of the Five Dastardly Bombers.
Gallery
References