Bomberman Series
Comments

2
1,298pages on
this wiki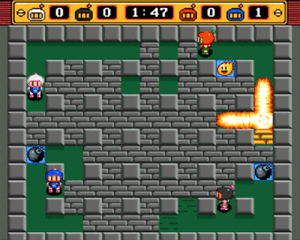 Bomberman is a strategic, maze-based computer and video game franchise originally developed by Hudson Soft. The original game was published in 1983 and new games in the series are still being published to this day. Today, Bomberman is featured in over 60 different games. Being commercially successful, with over 10 million units of games sold, the series "has since become known as the first name in multiplayer games".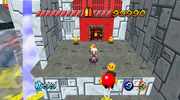 Occasionally, Bomberman games feature the grid-base action. Players are put in a stage where they have to destroy soft blocks, possibly uncovering items. New items have been created for different games, while some have been a permanent power-up. Items may be necessary to defeat opponents. When one is bombed, the player is "dead".
Playability
Player capacity has risen from two players to ten players. Online play is also available.
Games
Title
Platforms
Year
Bomberman
MSX, ZX Spectrum, NEC PC-6001, NEC PC-8801, PC Engine, Sharp MZ-700, FM-7, NES, FDS, Game Boy Advance
Famicon
Japan: 1985


NES
North America: 1987
FDS
Japan: 1990
Game Boy Advance/N-Gage
Japan: 2004


Bomberman II
NES, Game Boy Advance
NES


Japan: 1991
Europe: 1991
North America: 1992
Game Boy Advance
Japan: 2005


Bomberman (3DS)
Nintendo 3DS
Cancelled
Power-Ups
Main article: Power-Ups
Power-Ups are the basic items to help Bomberman defeat opponents. Power-Ups come in different abilities, such as the ability to carry more bombs or faster movement.