Bomberman Hero Official Guidebook is the official guidebook for Bomberman Hero. It provides detailed information on the game's stages, items, enemies, secrets, general strategies, and so forth. It was published by Shogakukan.
Contents
Story & Character Introductions
This section begins on page 6. The story and important characters are briefly introduced.
Bomberman Actions Introduction
This section begins on page 8. All actions, from movement and jumping to throwing bombs, are introduced. Bomberman's transformations and Louie are also introduced.
Item Introductions
This section is on page 10. All items throughout the game are introduced.
Map & Strategy Guide
This section begins on page 11. It comprises the bulk of the book. For each stage, enemy characters are briefly described, maps are provided along with walkthroughs for each area, secrets are revealed, and the boss moves and strategies are provided.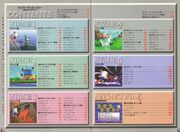 STAGE 1 - pg. 12
STAGE 2 - pg. 34
STAGE 3 - pg. 58
STAGE 4 - pg. 82
STAGE 5 - pg. 102
Secret File
This section begins on page 115. Maps and walkthroughs for each of the secret final stage's areas are provided, as well as the final boss's moves and strategies. The Slide Race, Golden Bomber, and Millian's Treasure Hunt are introduced, and instructions for unlocking them are provided. Instructions for unlocking the secret moon level of Planet Bomber are also provided, though no walkthrough is provided.
Ad blocker interference detected!
Wikia is a free-to-use site that makes money from advertising. We have a modified experience for viewers using ad blockers

Wikia is not accessible if you've made further modifications. Remove the custom ad blocker rule(s) and the page will load as expected.